Fresh new look for our website
We have given our online presence a fresh new look, with a clean and fresh style that complements our exceptional card range.
Welcome to our website refresh
Auscard is proud to announce the official launch of our newly redesigned website http://auscard.com.au. Ever since we first launched our website in 2008, we have received a huge amount of orders online from our valued customers looking to send beautiful Christmas cards to their clients, friends and associates. With web design trends changing so much over the years, the site was in need of a fresh new look. Our new brochures have been such a huge success, receiving many compliments, so we decided to bring that fresh and clean look to our online users.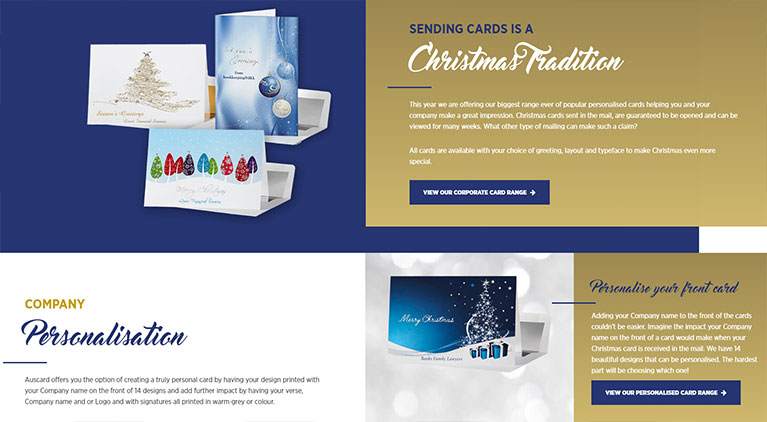 Things you will love about our new website
Fresh and modern design: with the combination of white, blue and golden colours, the site is a fresh modern take on our Christmas theme.
Mobile Friendly: want to check out our range on your phone or tablet? The new site is now much easier.
Simpler ordering process: We have updated our pricing structure to make it clearer and easier to work out your card order prices. Every card has the same cost per card, with a couple of optional extras such as colour printing, mailing services and front of card printing.
Start discovering now
Learn about our Corporate Christmas cards: This year we are offering our biggest range ever of personalised cards helping you and your company make a great impression.
Learn about our Company personalisation cards: We have included 15 designs which can have your Company name printed on the front of the cards to add impact branding and enhance your Company's image.
Discover our Mailing Services: This service is designed to personalise your Corporate Christmas Cards you are sending to your customer. Convenient and quick, easy to do. We can print each customer's name in the card above your personalised greeting.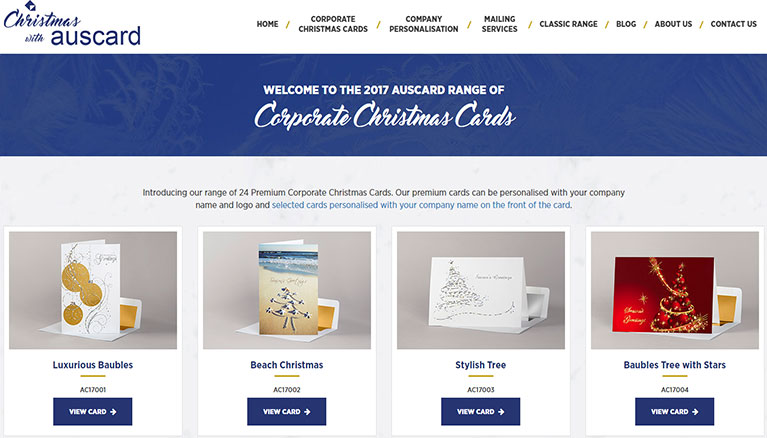 Tell us what you think
Don't hesitate in telling us what you think of the new site!
SENDING CARDS IS A CHRISTMAS TRADITION